Maybe you're a Kansas City Royals fan and you have been for life.  Or for a long time.  Maybe you've suffered through years of ineptitude and heartache and misery and now here you are, the light at the end of the tunnel mercifully bringing dawn to your brutally long night.  You're like the Chilean miners of baseball fans.  Buried for so long down in the depths of sporting misery that many gave up.  But you kept clawing, scratching, live-tweeting, and Billy Butler meme-ing through it all.  And now, you can taste fresh air.  You can see the sunshine of a crisp fall day breaking over Kansas City.  Over your city.  And it feels like your time.  It feels like suddenly destiny stopped hammer-fisting you in the face and is reaching down to offer you a hand off the mat.  You're Rocky Balboa and you just landed your first triumphant body blow on Ivan Drago/Tommy Gun/Carl Weathers.
Or, if you're like me, you just find yourself attracted to these kinds of stories that make sports so great.  So damn fun.  You find the Royals' scrappy, never-say-die, small-ball-loving attitude as fun to watch as it is riddled with unavoidable sports clichés.
If you're like me, the Kansas City royals have done the impossible.  They've suddenly made you give a shit about baseball in the middle of a hyper-fascinating football season.
Instead of tossing your nose up haughtily in the air, then angling said nose directly towards your TV so you can catch some more football highlights, you've found yourself pushing and shoving your way onto a bandwagon that's more crowded than an Ebola evacuation bus heading for the Liberian border.  (*Author's note: too soon?)  You've watched a team with about as much power as Ted Kaczynski's Montana mountain-shack (*Author's note: for those keeping track, that's Kaczynski reference #12,327) suddenly look like they've been ordering the Tony Bosch special, with "Extra Bosch", at their local "anti-aging" clinic.  You've watched Ned Yost do some heinously Ned-Yostian things that have somehow turned out just fine, leaving you to wonder if you're actually the idiot.
You've done all of this; somehow finding yourself so thoroughly engrossed in the Royal's attempt to prove Lorde's Beetlejuice-y ass wrong that you've watched the marathons of extra innings and the overabundance of weird, Vaguely British Viagra commercials and the insanity of watching important sporting events on a network that prides itself on playing re-runs of Family Guy during primetime.  Then today happened.
And you're stuck at the office.
Now, if you're the kind of fan this post started with, you're undoubtedly hung over.  Or not going in to work.  Or probably both.
But if you're like me (*Author's note: or an actual honest-to-God contributing member to society) then you probably went in to the office anyway.  You'll only miss a few innings, your rational, hoping-to-not-get-fired voice will whisper in your ear.  But what it I miss another Mike Moustaka-Flocka-Flame Bonnaroo crowd-surfing moment? Your sports loving side whispers.  Why not have the best of both worlds?  Why not enjoy the game as best you can at the office, then get to a car and Dick Trickle your way home.  (*Author's note: it's not what I look like, I swear.)
So here are 5 ways to try to enjoy the start of the Royals V.S. Orioles game while you're stuck at the office.
1.  Get that phone battery charged up, son!
If you're unable to access the game on the internet or if TBS' website has been red-flagged by your work's security settings for having the words "Big" and "Bang" used in the same sentence, then you're probably going to have to mobile-app that piece.  So far, the 48 people that have reviewed the Watch TBS app have given it a rip-roaring 1.25 stars out of five.  So, if you're scoring at home, that's lower than Billy Butler's stealing percentage.  But, in a pinch?  You can log on, cash in on your job's free Wi-Fi — or risk instantaneously turning your data package into a pile of smoldering overages – and catch the game in all it's small-screen glory.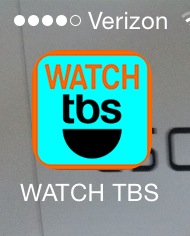 No cellphones allowed at your desk?  What kind of middle-school fiefdom are you selling your soul to?  Make a break for the bathroom and find yourself a stall far enough away from the others that no one will call the cops when they hear you cheering wildly while you're sitting on the john.  (*Author's note: to avoid arousing suspicion, I recommend only shouting ambiguous, potentially-bathroom related things while crapper-watching the game.  Ex: "Take two!"  "He's out!")
2.  Pull up the game on TBS' live streaming website
Feeling bold?  Have really disgusting company bathrooms?  Then you can always catch the game on your computer.  Make sure you have that trusty parachute page ready to go, though.  Is this the 2nd quarter of the year?  I don't know.  There's a chance your boss doesn't either.  So open up a few tabs in your browser with things like "Earnings report" and "expense reports" for a quick, panicked, mouse click.
Here's another parachute page I created so I could immediately bail out if I hear the footfalls of a superior heading my way down the cubicle-runway. Feel free to use at your leisure.
3.  Listen in on streaming radio
Slide your ear bud up through your shirt, lean down in your office chair like you're a G getting ready for drive-by mode and let Denny Matthews' buttery, dulcet tones massage your timpanic membrane.  If your boss or any other coworker walk by, make sure you're staring intently at the computer monitor so when you completely ignore them the first 12 times they say your name you can just point to the screen, shrug your shoulders, and say "look, don't you find spreadsheet analysis engrossing?"
4.  Make sure you've got a good backstory for your erratic behavior
If you're going to leap onto your posturepedic office chair and shout, "Moooooooooose!" You'd better make sure you've already talked loudly to multiple coworkers about how you're calling a client in Saskatchewan today to go over their home-owners insurance involving wild animals.
Planning on dropping to your knees and screaming "Crrrrrash!" With unparalleled fury and angst if Chris Davis gets a clutch hit for the Orioles?  You'd better have already just happened to print off some stuff right by your boss discussing the airbag ratings on the new 2015 Chrylser Sebrings.
You may even want to leave on your headset or keep the phone up to your ear and refer to all the players as "Mr." As in, "Mr. Gordon we could really use your expertise when we're talking about leveraging our Louisville accounts to create a big swing in the numbers."
5.  When all else fails, try to get sent home for the day
Wander past your boss's desk coughing.  Splash some water on your face so you look like you've broken out into a sweat.  Make a quick dash for the bathroom and leave your computer unlocked and have a gigantic, zoomed in Google search left up on your computer that says this:
Good luck.  God speed.  And go Royals.
FIN